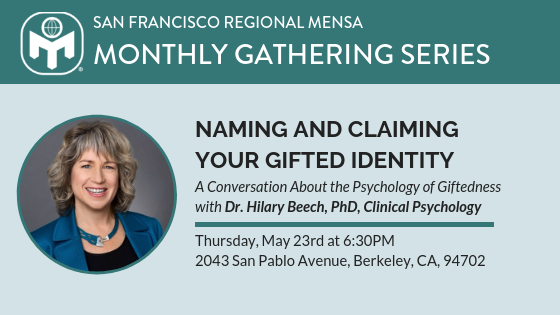 Join us for our May Monthly Gathering: Naming and Claiming Your Gifted Identity on Thursday, May 23rd, 6:30 pm, in Berkeley.
Dr. Hilary Beech returns to the Monthly Gathering Series to facilitate another conversation about the psychology of giftedness.   
In this workshop, you will learn about gifted identity formation and how your minority identity as a gifted person affects your experience in meeting the majority culture.  You will have opportunities to talk frankly about being gifted with other attendees, which can be tremendously helpful for normalizing experience, reducing isolation, creating community, and offering hope and options.  Dr. Beech will also discuss common psychological challenges for gifted adults, including social anxiety, perfectionism, and workplace relationships, and offer suggestions for how to make change in these areas.
Dr. Hilary Beech is a licensed psychologist in private practice in San Francisco, serving gifted, professional, and creative adults.
Wine, non-alcoholic beverages, and light snacks will be provided starting at 6:30, with Dr. Beech's presentation at 7 and the opportunity to mingle and chat after the talk. You can let us know you'll be joining us by RSVPing to . Prospective members and guests also welcome. Hope to see you there!
Location: 2043 San Pablo Ave., Berkeley, CA, 94702
BART – North Berkeley, 15 minute walk

Car – Free residential street parking, paid parking available at Spenger's Lot on 4th Street
Bus – 51B, 72, 72M, 72R, 800, 802
Bike – Secure bike storage on site